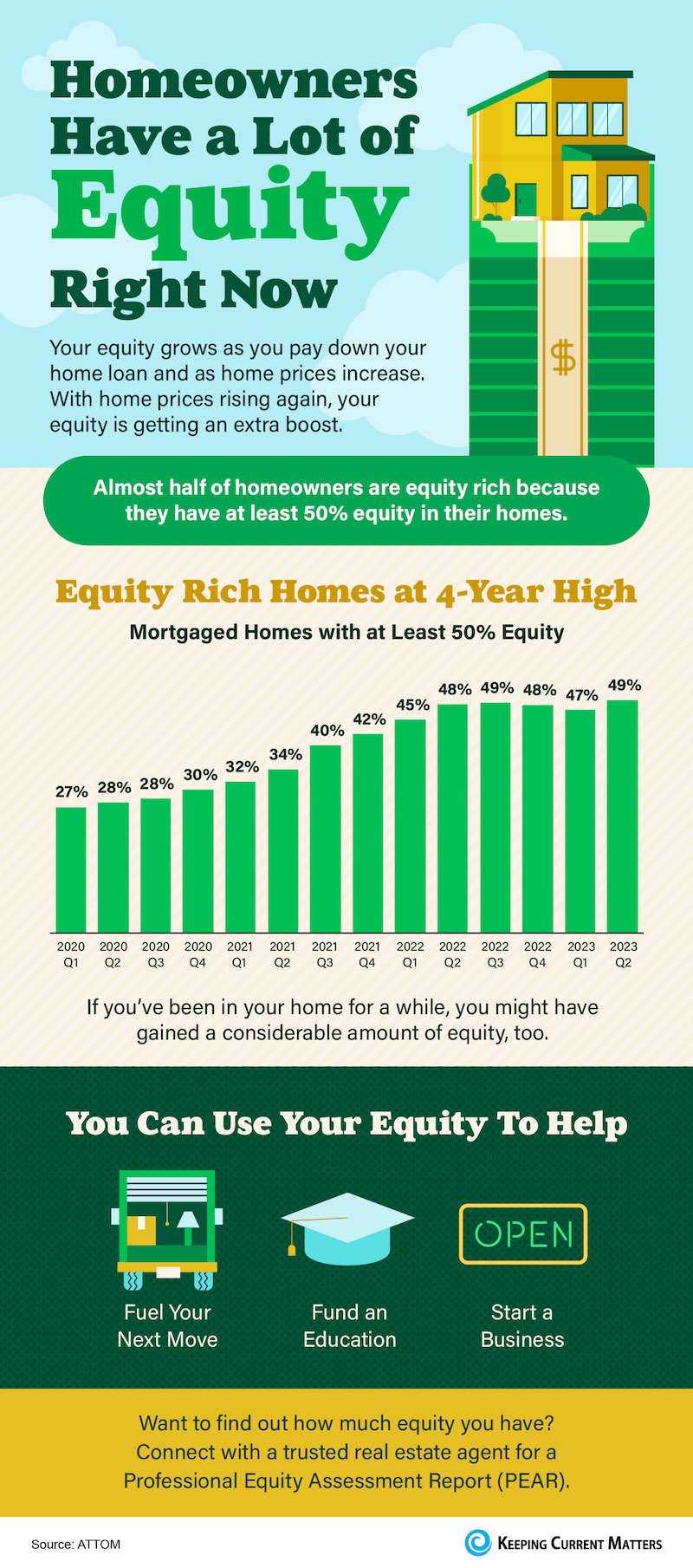 Unlocking the Power of Home Equity: A Path to Financial Freedom
In today's ever-changing real estate market, homeowners are sitting on a goldmine of financial opportunity. As the saying goes, "Home is where the heart is," but it's also where substantial equity resides. Equity in your home can be a powerful financial asset, and right now, it's experiencing a significant growth spurt.
The Equity Equation
Your home equity is essentially the difference between your property's current market value and the outstanding balance on your mortgage. It's a dynamic metric that grows over time, influenced by two key factors: your regular mortgage payments and the rise in home prices.
Mortgage Payments: Every time you make a mortgage payment, a portion of it goes toward reducing your loan balance. This gradual reduction in debt over the years leads to an increase in your home equity.

Rising Home Prices: The real estate market is notorious for its ebbs and flows. When home prices are on the rise, the value of your property appreciates, directly contributing to the growth of your equity.
A Market on the Move
In recent times, the real estate market has been making headlines with home prices steadily climbing. This upward trend is not only a boon for prospective sellers but also for homeowners looking to leverage their equity.
Here are some notable highlights:
Equity Rich Homeowners: Surprisingly, nearly half of all homeowners find themselves in the enviable position of being "equity rich." This means they possess at least 50% equity in their homes. If you've been a homeowner for some time, you might very well be part of this fortunate group.

A Considerable Windfall: If you've owned your home for several years or even a decade, you may have seen your equity grow significantly. Your property's appreciation combined with your consistent mortgage payments has likely resulted in substantial financial gains.
Discover Your Equity
If you're curious about just how much equity you've accumulated in your home, there's an excellent solution available - the Professional Equity Assessment Report (PEAR). By connecting with a trusted real estate agent, you can access a PEAR to gain valuable insights into your home's current value and your equity position.
This assessment provides a clear picture of your financial standing and can help you make informed decisions about your home, whether you're considering selling, refinancing, or simply want to understand your financial options better.
Homeowners today are in a fortunate position, with their equity on the rise thanks to a combination of diligent mortgage payments and increasing home prices. Your home is not just a place to live; it's a valuable asset that can play a crucial role in securing your financial future. So, if you haven't already, it might be time to explore just how much equity your home has to offer. Connect with a trusted real estate agent and unlock the potential of your most significant investment.
source: adapted from keeping current matters ®, real estate blog